Best Bathtub Faucets for 2021
Apr 25,2021 | Vicky
What makes a bathtub functional and stylish is the right selection of bathtub faucets. They render class and a glamorous look to the bathtub and make your bathing experience pleasurable.

Choosing a bathtub faucet is no more an easy task as there are several varieties available in the market. You should choose one depending on the style and design of the bathtub. You can use a deck-mounted or wall-mounted faucet for bathtubs that you fix to a wall. For a freestanding bathtub, you can use a floor-mounted faucet.

Each of these different types of faucets is available in various styles and finishes. Apart from chrome finish faucets, you can have faucets in oil rubbed bronze, brushed nickel, gold finish, and antique brass finish. You should select a faucet based on the overall look and feel of your bathtub.
If you are planning to purchase new bathtub faucets, here are some interesting collections from which you can select one.
2-Handle Claw Foot Freestanding Tub Faucet with Hand Shower
It has brought art to life in the form of an elegantly crafted full sized freestanding and claw foot tub floor mounted faucet. Features 2 handle control design, powerful tub filling spout, and far-reaching hand-held sprayer. All this is suspended atop a floor mounted freestanding architecture.

High-Arc Spout Design, it is modern and beautiful with the faucet perfect ground union is an organic whole.

Tripod bracket takes advantage of the stability of the triangle to make sure the faucet is in stable state.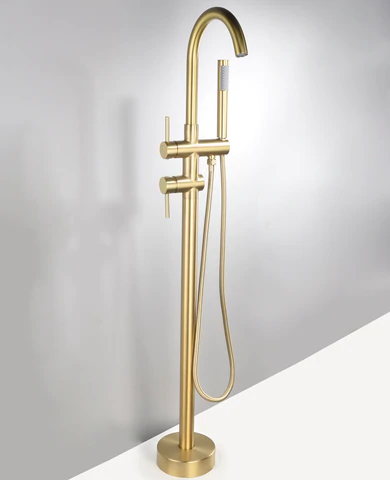 Featured 5 pcs Bathtub Waterfall Polished Chrome Bathroom Faucet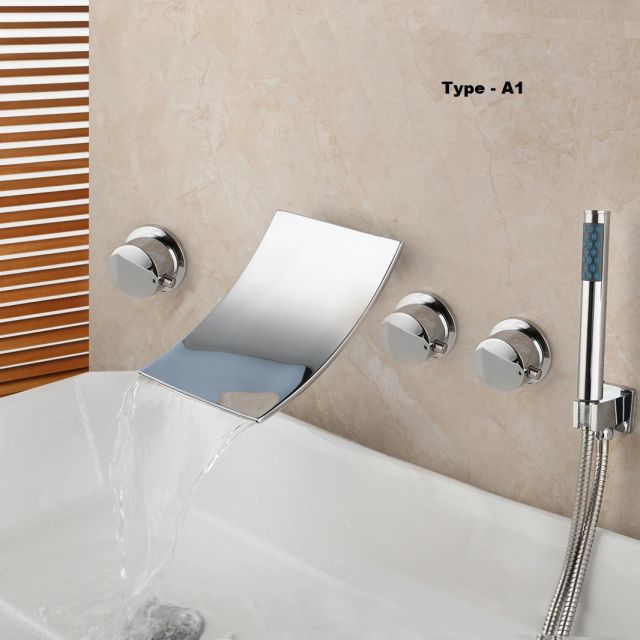 This is a trendy and stylish bathtub faucet that provides a minimalistic look to the bathroom. The faucet set comes with a curved spout, three handles, and a hand faucet. The spout is flat in shape and comes with a waterfall option. Thus, it is easy to fill the bathtub using this faucet. You can use two handles to mix hot and cold water, and the third handle to divert the water flow to the hand faucet.
This five-piece bathtub faucet is available in nine different styles. The styles vary depending on the shape and size of the faucets and the handles. You can have the faucet in a chrome finish that makes a good choice for contemporary bathrooms.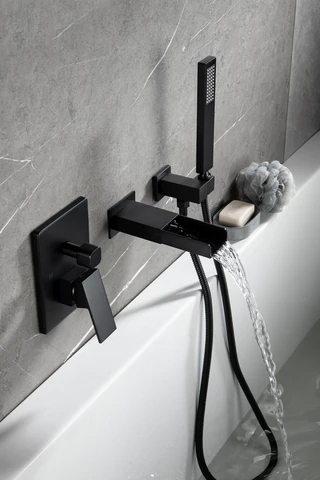 Fill your bathtub quickly and conveniently with the tub filler. It is suitable for filling any free-standing or claw-foot tub. Its single-handle feature makes it easy to switch between hot and cold water and adjust the water pressure. The hand shower makes it easy to control the water flow direction and adjust flow speed.
Modern Two-handle 4-hole Bathtub Faucet with Handheld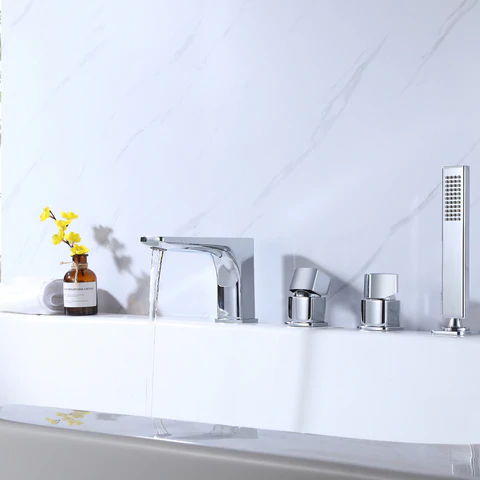 The Roman tub faucet with hand shower is a contemporary style design fitly for the roman bathtub that fused both functionality and minimalism together. This faucet is equipped with a hand shower, with 2 square knobs, one for effortless temperature control, another is easy to diverter switches tub spout and hand shower.
Single Handle Deck Mounted Roman Tub Faucet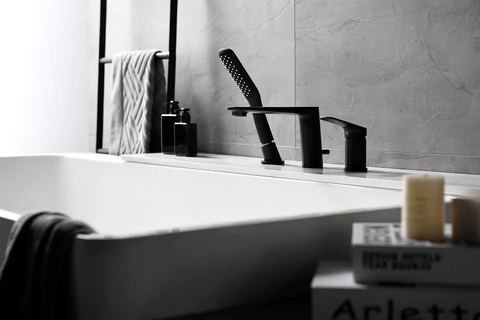 Solid construction, finish resist strong corrosion,scratch-resistant, and match versatile bathroom style. Single handle for effortless flow and easily water adjust.
Whether you're designing a new bathroom or remodeling the one you have, it's important to think about small touches if you're going to create a beautiful, cohesive room.

Bathtub faucets can make or break the look of your bathroom. It renders a sophisticated and elegant look with a touch of luxury. As a result, you should select the right type and finish of the faucet. The bathtub faucet selected should not only gel with the look of the bathtub but also with other hardware used in the bathroom.
Comment