Features of a patio umbrella
May 02,2021 | Vicky
Outdoor areas are becoming increasingly popular in residential houses, with good indoor-outdoor flow being one of the main selling features for the modern family home. The perfect space for family time or entertaining guests, it is essential to get the indoor-outdoor vibe right.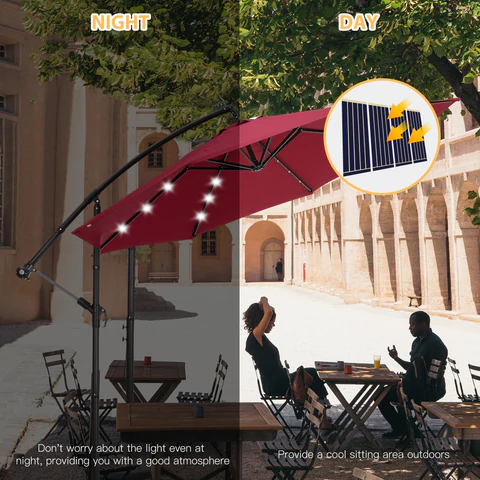 Adding an element of shade is important to make the outdoor area comfortable and practical for use in hot weather and for protection from the elements - whether that's rain or shine.
If you want to provide cover, but not box in your outdoor space, a patio umbrella is an economical and practical choice. Your area needs to be a functional but also look good - an umbrella gives you that diversity - you can choose whether you want it open or closed and they come in a range of colours, shapes and sizes, giving you the freedom to get the best fit for you.

The following are features of a patio umbrella, along with examples of spaces that have been enhanced through the addition of outdoor shade.
The Umbrella Canopy
This is the most important part of the patio umbrella - its the shade cover! The fabric needs to be fade resistant and made to withstand the sun's harsh UV rays. If using fabric with the right properties, you can choose any colour to complement your area without worrying about discolouration from the sun.
Size
Make sure the size is fitting for the patio area. You have many different options, with single, double and even triple canopies available! If you are unsure about what would work with your space enlist the help of a shade designer, who will offer you free expert help. They will be able to create a shade plan that is specific to you. Get in touch with the shade experts for a layout plan.
Umbrella Pole
There are different types of poles available for patio umbrellas - centre pole, offset pole (commonly known as a cantilever umbrella) or wall mounted system.
1.Wall Mounted
The wall mounted umbrella is designed to be attached to a wall or pillar, good for if you are short on space or have ground fixing limitations.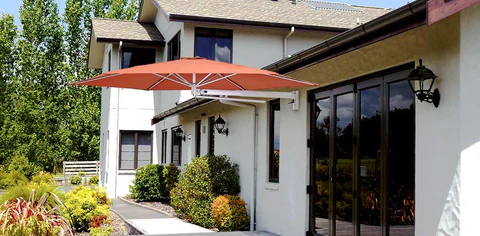 2. Centre Pole
The centre pole umbrella is ideal for a table area, where the one-piece pole can sit in the centre of your table, this is the most traditional patio umbrella.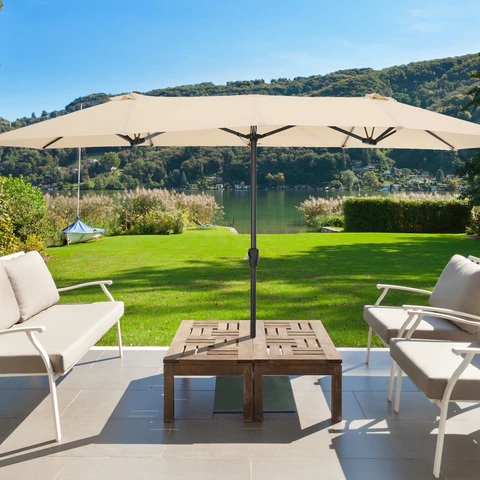 3. Offset Pole
Finally we have the offset pole, or cantilever umbrella! This is an elegant and practical option giving shade away from the pole, allowing ease of movement under the canopy. The latest umbrella on the block, they are fast becoming the most popular option.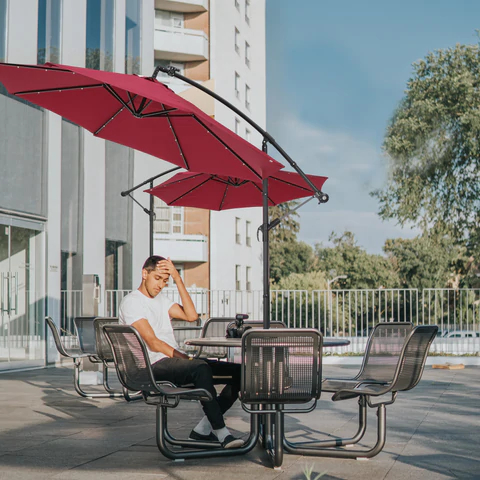 Ease of use needs to be considered when choosing your patio umbrella. Is it easy to operate - to put up and down? Make sure you take a look at how it works, usually a supplier should have a video that explains how to use their umbrella. Things to keep in mind are the quality and strength of the materials used. Often a string or pulley based system can perish outdoors, leaving the opening mechanism weak and brittle.
Does it come with a good quality cover and is it easy to put on and take off? The great thing about umbrellas is they can easily be removed when not needed, which is handy for if you have a multi-purpose outdoor area, or want to use the space in a different way. Also great to store if you don't use your outdoor patio in the colder winter months.


Umbrella base and fixations
The base of the patio umbrella is also important. The base needs to hold the umbrella firmly in place to protect against high winds and not to tip over or present a danger to those around it. Also you should consider it placing in a way so as not to be a tripping hazard. Look for a base that won't tip over and will support the weight of the umbrella. For an alternative, extremely effective solution, consider fixing the umbrella via bolts into concrete or to a deck with a poured concrete ground fixing.



You can find a range of umbrella accessories online. Lighting is a big part of creating an ambient outdoor area in the evening. Umbrella lighting will allow you to stay put and enjoy the day a little longer and provide a nice glow to the atmosphere. They are a very cost effective way to add extra light to your outdoor patio area.
Comment