Indoor Folding Fitness Bike for Home Gym
Better Fitness If you have to stay at home for long time every day and you want to do something. Our folding exercise bike will do you a favor! We are always frustrated by uninteresting lifestyle; however, we are eager to do something like exercise but quit because of the high cost in the fitness center. EXERCISE BIKE is designed for seeking our customers every need. Two wheels and foldable frame help you move it easily and save your room. Fully adjustable seat and handlebar, built-in arm resistance bands help better improve upper body strength while cycling. This stationary bike adopts magnetic resistance and delivers smoothly, quietly and virtually with no maintenance. And our slim cycle exercise bike helps bring full body workout into your daily routine. Set up your fitness goal right now with this slim cycle for better fitness.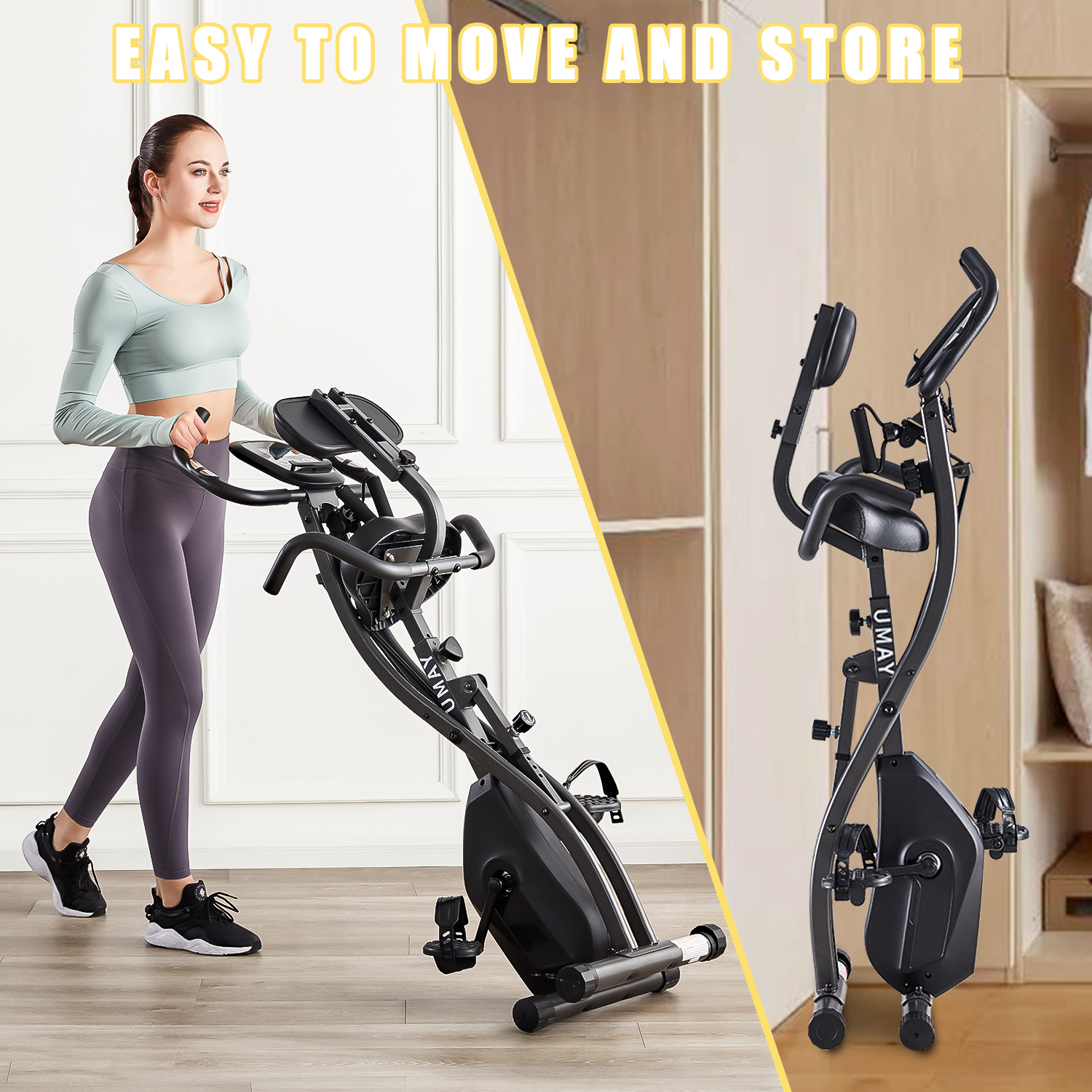 Easy Way to Lose Weight in Your Home
Our Goal: Maintain a healthy lifestyle!
FOLDABLE AND EASY TO MOVE: This folding exercise bike can save your room and be moved easily with two wheels on the front legs.
3 IN 1 EXERCISE: This fitness bike can be used as an upright and recumbent exercise bike to maximize your workout and utilize different muscles. Arm resistance bands help your whole body workout. Fully adjustable seat and handlebar, built-in arm resistance bands help better improve upper body strength while cycling.
8 LEVEL MAGNETIC RESISTANCE AND QUIET: The adjustable resistance exists on this slim cycle exercise bike. Every level up, you can feel the change and your body muscles will be maximally challenged. What's more, there is no creaking and no noise as you pedal harder and faster.
COMFORTABLE SEAT CUSHION AND BACKREST: The stationary bike seat and backrest are made of high-density sponges and own ergonomic design. It supports your back and hands during your continuous exercise to make your exercise process more comfortable. The padded seat of the exercise bike is extra-large, about 11.8*8 inches.
LARGE DIGITAL LCD MONITOR: The digital LCD monitor clearly displays distance in miles, speed, time, calories, and heart rate pulse. No matter how long you workout, it still works splendidly.
LCD Screen & Phone Holder
The electronic screen uses a AAA battery to display basic data in real time.
Hold the armrest with both hands to measure your heart rate.
And there is a holder for small parts such as mobile phones.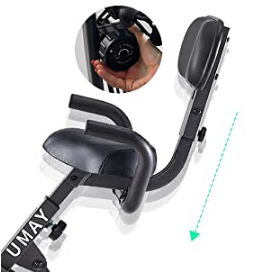 Adjustable Seat
Regarding the Versatile seat, there are two adjustments: the height from the ground and the height of the backrest.
Anyone between 4.9 ft and 6.1 ft tall can easily use it without any restrictions.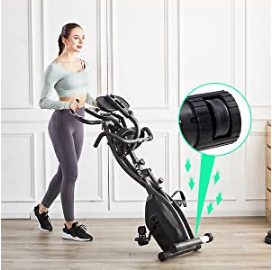 Transport Wheels
If you live in a small apartment, you may even need this mini bike.
Because it is not only foldable to occupy a small capacity, but also has a built-in roller at the bottom to help you move it effortlessly.